Community Details
Community Amenities:
»
1-2 acre home sites
»
Creek lots
»
Treed lots
Schools: Allen ISD
»
Chandler Elementary
* Exemplary
»
Ford Middle
»
Lowry Freshman
»
Allen High School
Parks/Recreation:
»
Bethany Lakes Park
»
Allen Station Park
»
Celebration Park
»
Oak Point Park and Nature Preserve
»
Hydrous Wake Park
Golf Courses:
»
The Courses at Watters Creek
»
Chase Oaks
»
Firewheel Golf Park
»
Pecan Hollow Golf
»
Los Rios Country Club
Entertainment/Culture:
»
Allen Civic Ballet
»
Allen Philharmonic
»
City of Allen Public Art
»
Allen Community Theatre
»
Eisemann Center
Medical:
»
Presbyterian Hospital of Allen
»
Texas Health Presbyterian
»
Twin Creeks Hospital
Shopping:
»
The Village at Allen
»
The Village at Fairview
»
Allen Premium Outlets
»
Firewheel Town Center
Places of Worship:
»
Cornerstone Baptist Church
»
First Presbyterian Church
»
Creekwood United Methodist
»
St. Jude Catholic Church
»
Grace Evangelical Free
»
Sri Ganesha Temple
Nearby Freeways:
»
Highway 75
»
Highway 78
»
George Bush Turnpike/190
»
Highway 121
Located in the highly sought-after Allen school district, Kings Crossing offers 1-2 acre home sites and features a winding creek through the community. Discover the perfect blend of a family-friendly neighborhood while exploring nature's beauty at Kings Crossing in Parker. D Magazine rated Parker as the #1 most desirable Suburb in the DFW Metroplex. Collin County is ranked #14 in the Top 20 of the Best Places to Raise A Family according to Forbes.com. Come out and see model homes in Parker in this wonderful community. Adding to this lifestyle, Grand Homes brings you a new neighborhood of value and charm. Attractive, unique, and spacious designs are some of the wonderful home characteristics you will find in Kings Crossing.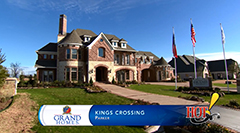 Directions / Map
From 75/Central, exit Bethany Drive. Travel east apx 5 miles to Middleton, just after Angel Parkway & before Lewis Lane.
Map Link
|
Print Directions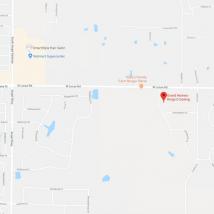 click image to enlarge